1) Hotel car is available as on demand at an extra cost.
2) We provide pick-up and drop from the Kashipur Railway Station.
3) Pre-booking required, condition apply, Subject to availability.
4) Please call at +91 99173 00028 for the car booking.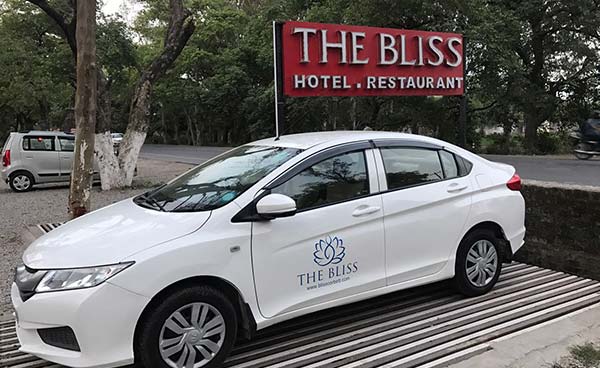 Kesariya
Multi-Cuisine Restaurant
In order to address the sensitivities and taste-buds of guests, The Bliss has a dedicated pure vegetarian restaurant with a separate kitchen, to ensure a complete satisfactory and savoury experience. The ambience is further enhance by a live kitchen and a lavish buffet counter. The menu offers a wide range of robust flavours across various cuisines teamed with our finest collection of beverages. To make sure your sensory organs are furthermore pampered, the restaurant has dedicated a small section to live music and performances.
Ibiza
Bar, Discotheque & Multi Cuisine Veg / Non-Veg Restaurant
The bar at The Bliss boasts of a stunning, lively and warm ambience that is both entertaining and pleasing to senses. With our select and hand-picked range of fine wines, cocktails and mock tails, be ready to get intoxicated amidst the company of your loved ones. Go, get your sleeves rolled up and hit the floor with our vibrantly animated DJ music. Alternatively, you can just sit and have a laid-back chit-chat in the refined open seating environs along with enjoying some enchantingly entertaining live performances, Karaoke and live sports screening.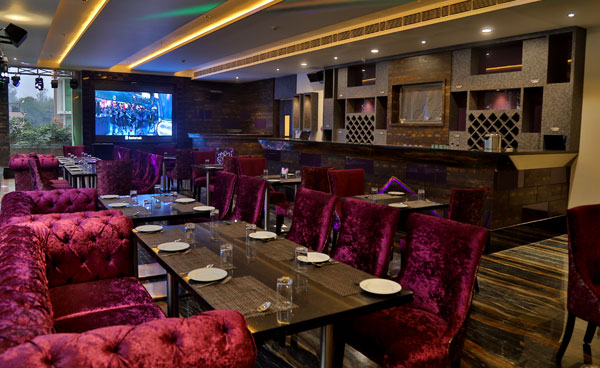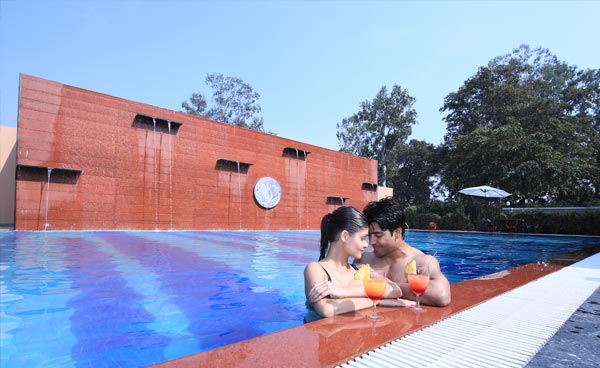 Splash
Swimming Pool for Kids & Adults
The swimming pool at The Bliss is magnificently landscaped over multiple levels, in the sense that it has an adult pool, a kid's pool, and a Jacuzzi. Invest your day, soaking the sunlight, in our turquoise blue waters. The gazebo adjacent to the pool makes an ideal retreat for the guests to relax and take off to read a book, sip a refreshing drink or simply marvel at the calm and still water. The musical, lively and buzzing ambience, owing to the on-playing music makes your swimming experience totally overwhelming, exciting and fun.
Aura
Spa
Dedicated state-of-the-art Spa with luxurious design and confines of tranquility, wrapped in a delightful aroma and soothing energy is certain to make you go on a sensory trip. The gentle warmth of private steam chambers complimented with our signature therapies will help you de-stress and rejuvenate, as you get to spend some lavish and wholesome moments with yourself. The Spa centre addresses the wellness requirements of the modern day daily life dynamics through our signature therapeutic massages, sauna and steam.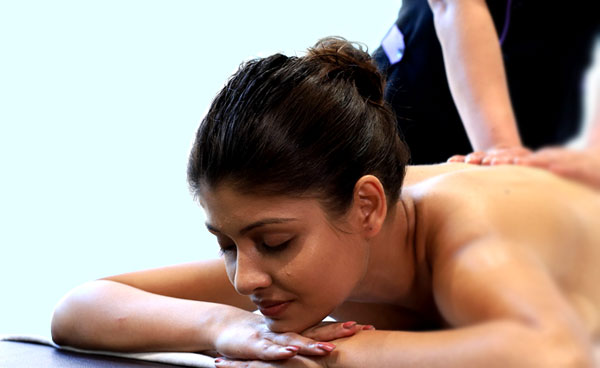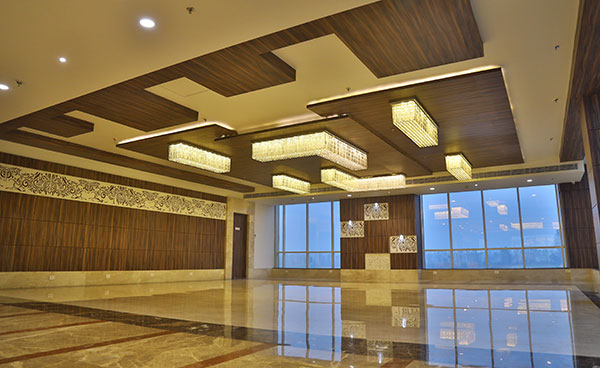 Ecstasy, Euphoria & Paradise
Banquet Halls
The Bliss makes for an exclusive venue when it comes to Banqueting owing to its luxurious, magnificent structure and interiors. The Bliss combines ease of location, landscaped gardens, state-of-the-art amenities and exceptional food/beverage in a sophisticated and scenic setting.
The banquet hall can accommodate a large number of guests in an ambience, which is both resplendent and vibrant. Spread over 5,500 square feet, the hall can be compartmentalised into three small party halls which can further be used to arrange either a birthday or engagement party or a sit – down social dinner.
Our halls, endowed with natural light, cascading through the high windows, offer an ideal setting for your events.
The Gossip Mill & Zing
Kitty Party Halls
The halls at The Bliss, make for a lavish and grand Kitty Party venue. The great catching up sessions can be made even more interesting and special by asking us to arrange a gourmet lunch kitty or a Hi-tea kitty; an experience that your guests will enjoy and reminisce for a long time.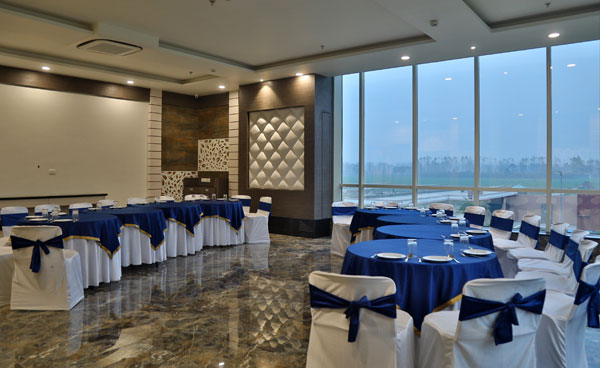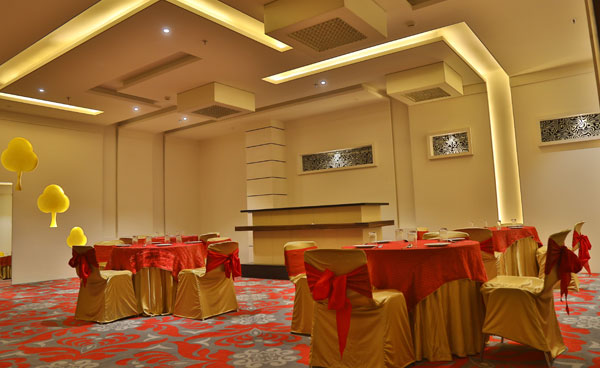 Poker
Card Room
For the guests who seek to unwind in the company of their family and friends in a conventional casual way and yet wish to be in a more intimate setting, the Card Room at The Bliss hits just the right chord. The spaciously neat seating complimented with noise-free flooring keeps away the cacophony of the outside world and makes it a cozier place; an experience that our guests will enjoy and reminisce for a long time.
Joy World
Kids Zone
At the Bliss, there is an added attraction for our little guests, who are always welcomed with various engaging activities. The expanse of the resort is well-utilized by the strategic lay-out of our daily bunch of activities schedule. Vibrant and creative interiors draw the children and keep them engaged and entertained. There are trained professional caretakers, who are always hands-on to take care of the children as they rejoice within the safe surroundings of the play area.
Apart from having their own separate pool to splash in, the kids get to have fun to their heart's content in a child-friendly environment. The expanse covers the outdoor playing area, with its assortment of swings, to a bright and cheerful space where there are full walled LED TVs for the kids to play video-games or watch movies. So, while the guests and spouses have their own private moments, the kids can be left to hang out at the kid's game parlour.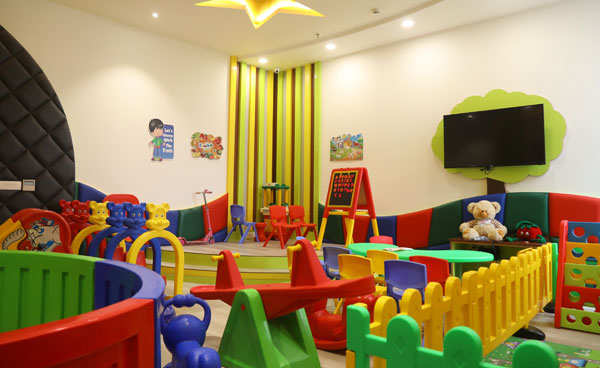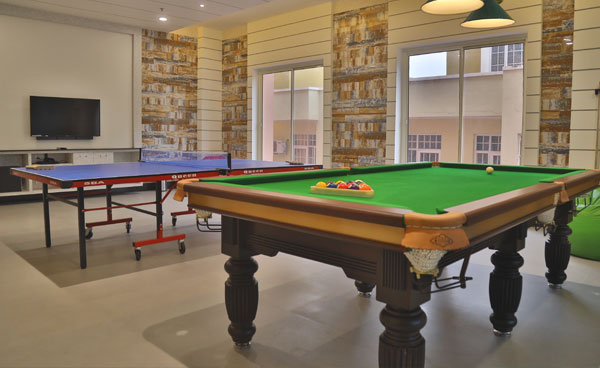 Players
Indoor Sports Zone
The guests can always find a reason at The Bliss to indulge themselves in various indoor activities and re-live the moments which they miss out on, in their day-to-day routine. The Multi- Activity area falls nothing short of to offer with its captivating games and activities which include Table Tennis, Pool Table, Billiards and Play Station on large LED screen.
Kinetic
Gymnasium-Fitness Centre
Kinetic isequipped with world class cardio and strength training machines, that offer health enthusiasts, a complete fitness solution. Train with or simply work-out under our team of professional trainers, who have an edge with their expertise in the subject.
The gym, located on the first floor, equipped with all the latest and modern equipment will help you shake off those extra calories while ensuring fabulous views through the floor-to-ceiling glazed windows. The gym also features separate counselling rooms, wherein you can get thorough guidance of our skilled trainers; who will also help chalk-out your personal fitness regimen. The vibrant and peppy on-playing music in here, keeps your spirit high and the mounted LED TV screens keeps you engaged as you sweat it out. The gym offers a holistic approach of training ranging anything and everything from Aerobics to Weight Training.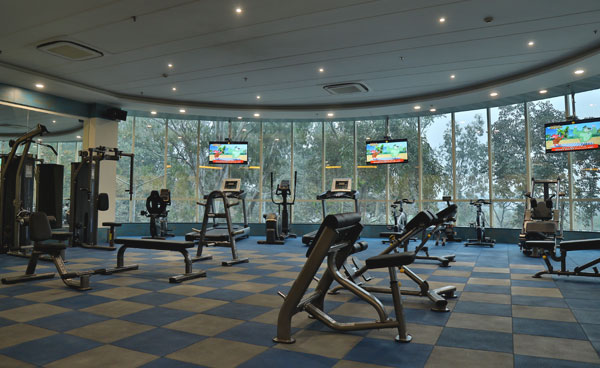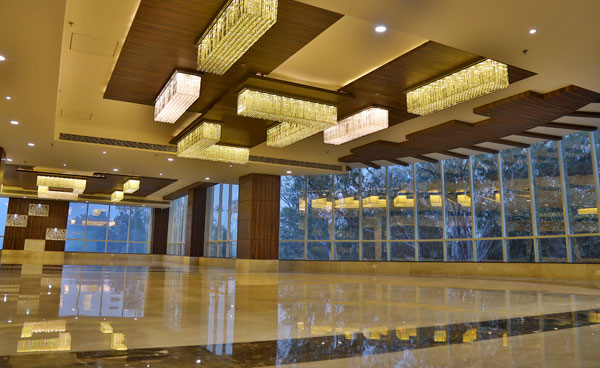 Harmony
Yoga & Meditation Hall
At our Yoga & Meditation hall take time away from your daily chore to ward-off all your stress and experience the all-surrounding positive cosmic energy. Practice Yoga under our professional trainers and heal yourself with the traditional yogic postures.
The Aristocrat Lounge
VVIP Entertainment Package
The comfortable ambience of the Lounge features cool desert tones and plush indoor lounge seating. Relax in the serene environs of the Lounge and make the best of our select food and beverages; meant only for a privileged few.Conference Room The spacious and elegant conference rooms can be used multi-purposely either for conducting a training session or organizing a conference meet. The combination of our high-end technology equipped rooms along with caring, efficient and hospitable staff, ensures that the function or event is a sure success.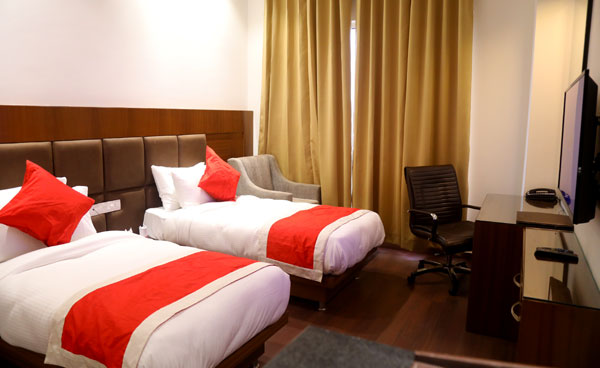 The Bliss has a variety of premiere selection of luxurious accommodation to offer. Overlooking sweeping stretches of lush green cover, this hotel offers rooms that are nothing less than an architect's delight.
The rooms are available in several categories so that the guests can opt for the one that suits them the best.
All the rooms have been built keeping luxury, comfort and sheer elegance in mind. The beauty of the soft and plush furnishings has been enhanced by strategic lighting that further makes these areas a chic venue for your stay.
The rooms offered at 'The Bliss' are as follows: